Almost a year ago, I lost my beloved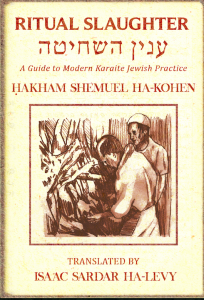 uncle, Benjamin Pessah, the last Egyptian Karaite Jew actively practicing shehita in the United States. At that time, I made a personal resolution to continue to promote Karaite shehita whenever possible. Last week, the Karaite Jews of America released a new work on Karaite shehita. The work is Ritual Slaughter: A Guide to Modern Karaite Jewish Practice.
Today, I interview Travis Wheeler, the only shohet in the United States to be trained by the Karaite community of Israel. In fact, he was trained by H' Moshe Firrouz, the Chief Hakham of the Council of Sages. Travis owns Six Star Meat and Poultry and recently released his Passover pricing list.