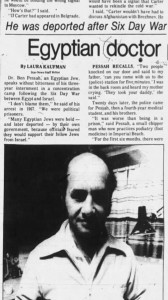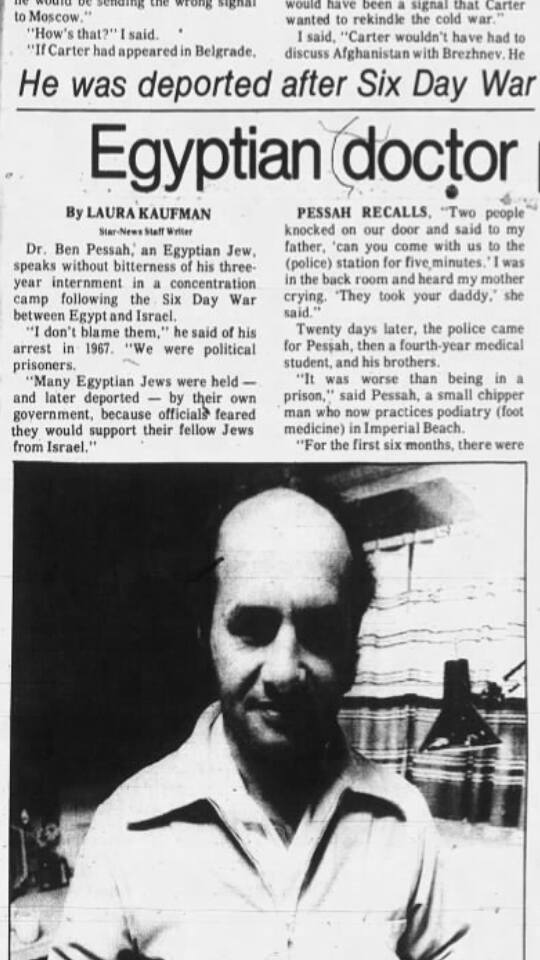 When I was in high school, I learned two truths that would change my world. The first truth I learned was that my male relatives were detained in Egyptian internment camps during the Six Day war. The war lasted six days, but the Egyptian government's internment of Jewish males lasted approximately three years. The second truth I learned was that every year my Uncle Ben had personally slaughtered the lamb we ate on Passover. I never knew any of this till my high school years. Crazy.
Benjamin ben Moshe Pessah was one of the Jews detained by the Egyptian government. He was also the last of the Egyptian Karaite Jews regularly practicing shechitah in the United States. I will miss him tremendously.
A few years ago, I had wanted to fly to San Diego to be with him as he slaughtered the lamb for Passover, and I had wanted to learn how he prepared the meat after the slaughter. When he made a preliminary visit of the farm to determine whether the animals were suitable for slaughter, he decided that he could not slaughter the animals because all them were pregnant. I did not end up joining him. That was 2013. When I blogged about it at the time, Ben's son, Ryan, remarked to me that I had finally uncovered the truth as to why we were short on lamb that year. Ryan joked that I always got the inside scoop.
By the time 2014 came around, Ben was stricken with cancer, and Eli Shemuel was serving as a shaliach to the Karaite Jews of America. Eli went down to San Diego to slaughter the lambs that year. Eli had been trained to be a shochet in Israel, and Ben helped manage the post-slaughtering process. In 2015, Ben was too weak to slaughter any animals for Passover. So, his brother-in-law, Jacob (i.e., Ben's wife's sister's husband), went down to San Diego to learn how to slaughter the animals from Ben. It was fitting that Ben passed this knowledge on, for Ben had learned the practice of shechita from his father-in-law.
I had always wondered why it took so long to learn that my family spent time in internment camps. Part of the reason that no one spoke about it was because they were tortured, and they wanted to put the episode behind them. In Ben's case, one of the reasons I never heard about his story was because – despite the torture – he did not bear any lingering animosity towards his captors. As noted in an article by Laura Kaufman, Ben "speaks without bitterness of his three year internment".
As for why I never learned that Ben slaughtered the lamb for Passover: Ben was an extremely humble and pious man. He deflected attention away from himself – especially when he felt he was simply doing his job. Ben's children are the same way. His daughter, Shay, has helped me countless times behind the scenes with Karaite projects. And she never asks for credit or publicity.
Benjamin is being laid to rest today near Daly City, California. He is being buried in accordance with Karaite Jewish ritual. Even though he lived in San Diego, he is being buried near the other Karaites of the San Francisco Bay Area. I guess I should not be too surprised that this is what he and his family wanted. His wife, Mira, once told me that she flew with Ryan from San Diego to San Francisco when Ryan was six days old to make sure that he had a traditional Karaite berit milah ceremony.
I had the honor of spending last Thursday (one of Ben's final days) with my uncle. He was drifting in and out of sleep. But when I played Karaite recordings by Rotem Cohen and Eli Shemuel he immediately perked up.
Before I left, I told him that I would give my son a kiss from him. Ben whispered "many, many." That is the kind of guy he was. He never gave just one kiss or one hug or one smile. He gave many.
*  *  *
Below is the article by Laura Kaufman which explains how the internment happened, and how Ben approached life. Credit goes to Ben's daughter-in-law, Anna, for finding it an scanning it. (I do not know which paper published it, or the year in which it was published.)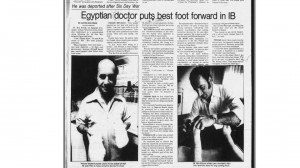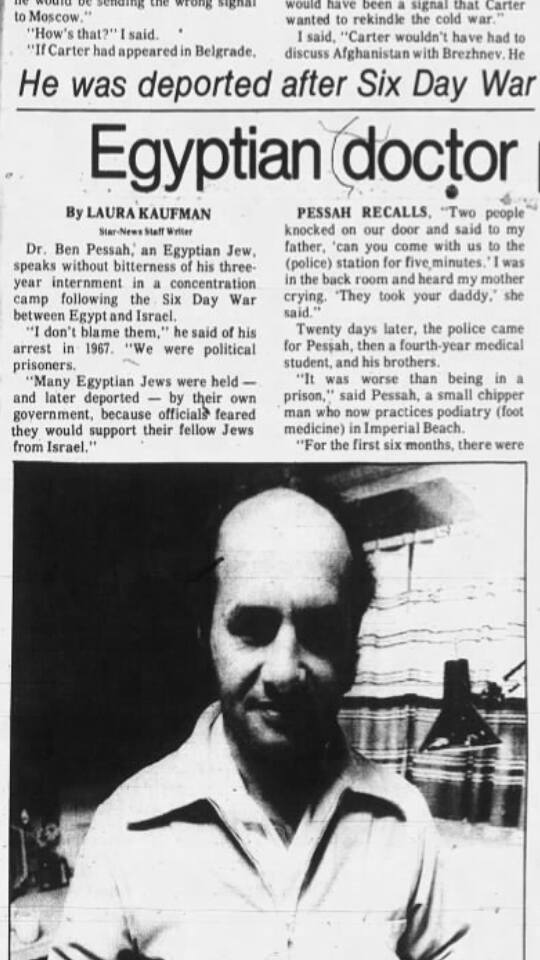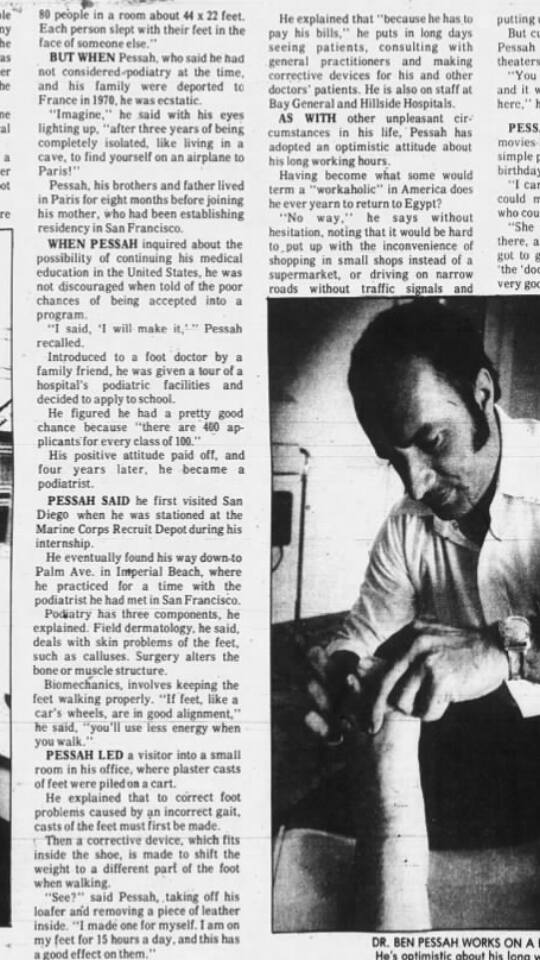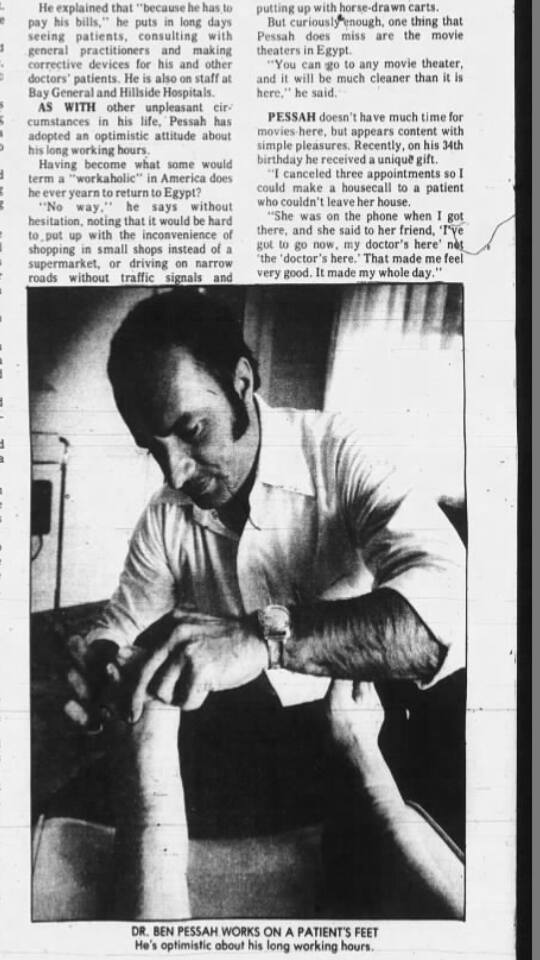 *  *   *
Today is the fifth day of the first week of the seven weeks. Today is the fifth day of the counting of fifty days from the waving of the omer on the morrow after the Sabbath.