B'ezrat Hashem, this November I'll be speaking at a synagogue in Maryland. The topic for this talk is Karaite Judaism: The Rise and Fall of a Movement. Although most of what I speak about is uplifting, Karaite Jews need to come face to face with why the movement fell – and to some extent failed.
So between now and November, I'll periodically post some snippets of the themes I'll be talking about. And I hope to record the talk as well.
For today, I'll focus on one of the main reasons why the Karaite movement faltered. At some point we stopped producing original literature. And even our historical literature is not available in any meaningful capacity.
Scattered in libraries throughout the world and on shelves in homes and synagogues are copies of some amazing Karaite works. Let me give you a few examples – in the hopes that someone somewhere will take up the challenge of making these works digitally available (and text-searchable) for readers.
Sefer Ha-Osher: One of the coolest Karaites around was Hakham Jacob ben Reuben. He lived about 1000 years ago and from what I can tell his works are really interesting. I say what "from what I can tell" because until recently, I had only read references to his works through the eyes of academics. But I just came across a copy of his Sefer Ha-Osher ("The Book of Riches"), which is a commentary on the entire Bible. [1.]  As far as I know, the entire work has never been published.Here is a copy of the first two pages of the scan in my possession.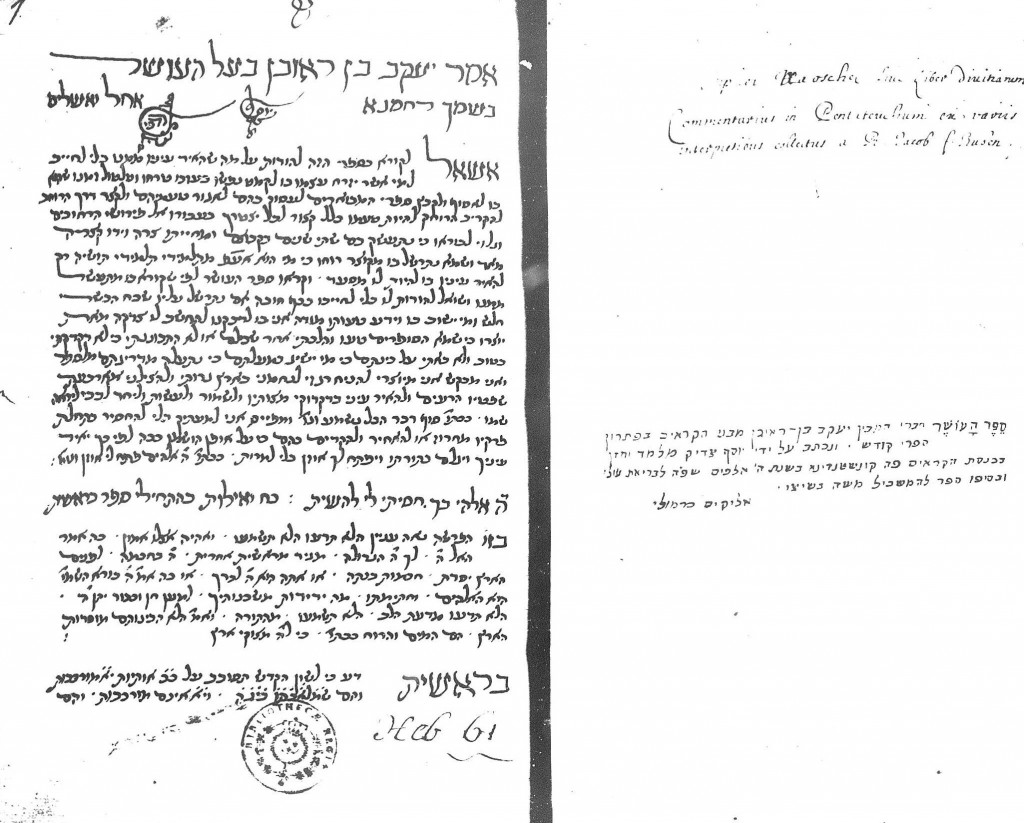 Commentary on Job: Another famous Karaite was Hakham Yefet ben Ali. Ken Lane over at Okie Hebrew took the Hebrew name Yefet in large part because of Yefet ben Ali. Yefet lived in the 10th Century, and I don't believe Yefet's commentary on Job has never been made commercially available. The version I have seen would require deciphering by an expert.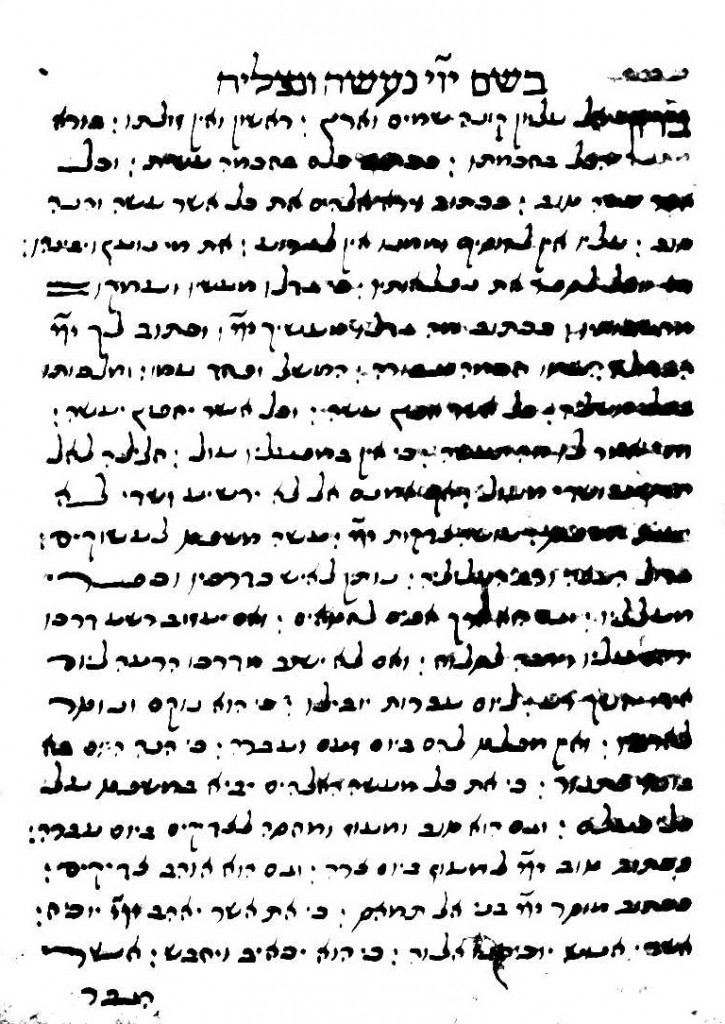 Book of the Wars of Hashem: There is also this beauty by Hakham Salmon ben Yeroham. It is his Response ("Teshuvot") to Saadyah Gaon. The work is more commonly known as Yeroham's Sefer Milchamot Hashem ("The Book of the Wars of Hashem"), which has been translated in part by Leon Nemoy in the Karaite Anthology. It has also been published by the late Dr. Israel Davidson of the Jewish Theological Seminary of America in a book that is no longer in print, and used copies sell for about $150.
I showed the image below to Yosef Zarnighian, who recognized it as Lithuanian in script. Dr. Davidson himself was from Lithuania. There is a theory that some of the Lithuanian Rabbanite Jewish community was of Karaite descent; so it is not surprising that the script might be Lithuanian. Joel Davidi informs me that the theory is particularly plausible with respect to the founding members of the Jewish community there.
Perhaps that's why Litvak Jews are known for being "overly rational, skeptical, and prone to heretical thinking."  Some of the most famous Karaites today are actually from Litvak families. In any event, enjoy the manuscript.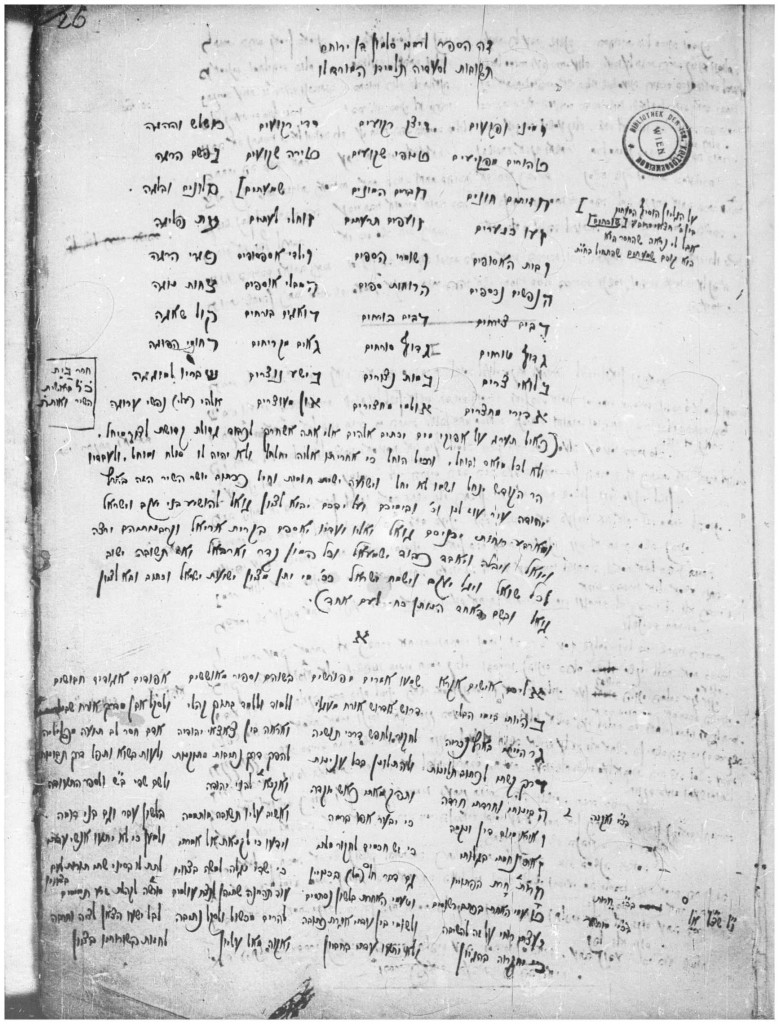 If Karaites are going to thrive into the next century (or even through this century), we need to make our works accessible. And accessible in a meaningful and useful capacity. For example, Sefaria has done an absolutely amazing job bringing Rabbinic literature to life in the most user-friendly format I've ever seen. I'll approach them to see if they are willing to do the same with historical Karaite literature. For example, it would be awesome if at the same time someone is looking up Rashi's commentary on Bereshit, she could also find a Karaite commentary.
Moreover, for Karaites to survive, we need to start anew writing meaningful commentary and sifrei mitzvot – much more meaningful than the fluff that I write. Writing sound halakha and sound commentary is not easy. But a community without new and evolving literature will forever reminisce about the "Golden Age" and will never even come close to creating a Silver Age.
*   *   *
[1.] Although Wikipedia states that Sefer Ha-Osher carries no special significance with respect to Karaite biblical exegesis, the excerpts I previously read from Ankori's Karaites in Byzantium are fascinating. For example, the work records several definitions of what a mamzer might mean. (See my comments to a previous article here.) According to Karaites in Byzantium, Sefer Ha-Osher addresses textual difficulties from a biblical (rather than Talmudic) perspective.