I finally did it. For almost 20 years I have been thinking about how to reconcile Psalms 81 which specifically says to blow the Shofar on new moon with the traditional Karaite view that there is no commandment to blow the shofar on the Yom Teruah (i.e., what the Rabbanites call Rosh Ha-shanna), which is a new moon. And this weekend, as I was preparing for a class I taught at a Conservative Synagogue, I did it.
It was actually pretty easy once I read the entirety of Psalms 81 (and not just the part that was perplexing me).
To set up the issue, let's start with Leviticus 23:24 which says that the first day of the Seventh Month shall be a Zichron Teruah. The word teruah is a loud sound, and may be made by shouting, may be made by silver trumpets or may be made by shofar, among other items. The standard Rabbinic view is that "teruah" as in "Yom Teruah" (the First Day of the Seventh Month) must be made by the shofar. And the standard Karaite view is that teruah is not made by a shofar.
There is significant confusion about this among English readers, because the Jewish Publication Society 1917 (as well as many other Rabbanite translations, as well as Christian translations) translates the verse in question by assuming teruah is made by a shofar (or horn, generally). The screen shot below is from the learning I did on Monday evening regarding the holidays of the Seventh Month.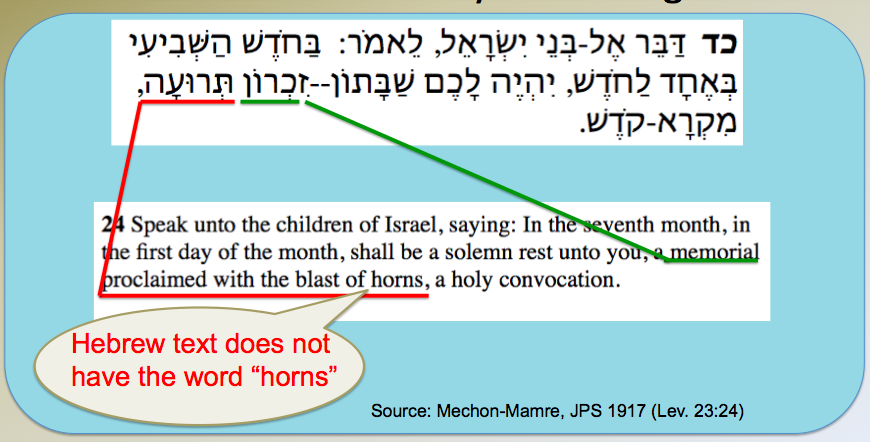 The JPS supplies the word "horns" to make sense of the verse according to the Rabbanite halakha. Of course, every translation is an interpretation. And there is actually nothing wrong with this translation if you are approaching the text from a Rabbanite perspective, which JPS is doing.
But, let there be no doubt: the JPS translation reflects the Rabbanite interpretation.
If I had wanted to translate this verse according to the Standard Karaite interpretation, I would have translated "zichron teruah" as a "memorial shout" – and Yom Teruah (from Numbers 29) as a "Day of Shouting."
Okay, now that we have set up the issue, let's turn to Psalms 81 (which has caused me trouble off and on since 1999).
Below is a screen shot that I included in Monday evening's learning. [Fn 1.]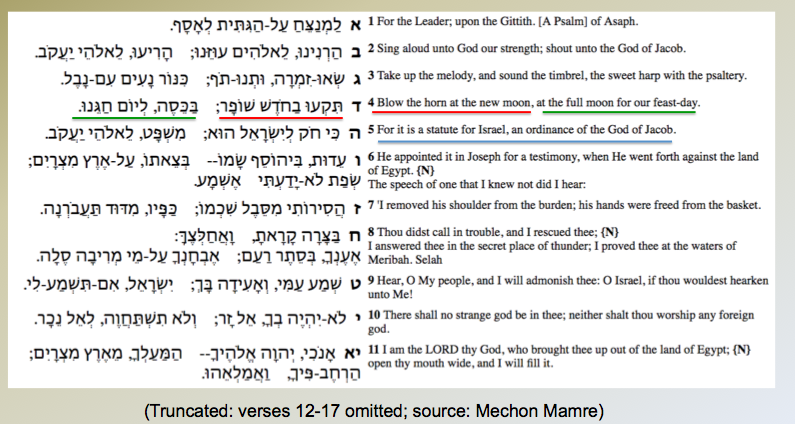 As you can see in verse 4, it expressly says to blow (from tekia, not from teruah) the horn (this time, shofar is in the text) at the new moon. The JPS translation also says that the shofar should be blown at the full-moon, which is the feast day. Whether this indeed means "full moon" or the "concealed moon" (i.e., when there was no moon visible in the sky) was a significant debate in the comments here. (And is something I don't intend to get into now.)
In any event, from a Karaite perspective, the next line (verse 5) seems even more problematic, for it seems to suggest that "blowing the shofar at the new moon . . . " is a "statute for Israel, an ordinance of the God of Jacob." Others have also connected Psalms 81:4 with Yom-Teruah/Rosh Ha-shanna (and apparently Rabbanite communities read it on the holiday). [FN 2]
Uh-oh. How can this be? I spent my entire Karaite life explaining that there is no commandment to blow the shofar. I was perplexed. If only there were a Karaite Guide for the Perplexed.
So, here's what's going on (in my opinion). This is indeed talking about Rosh Ha-shanna – just not the Rosh Ha-shanna (or Yom Teruah) that is about to be celebrated. It is referring to the Biblical New Year, which occurs in the First Month of the Year, the Month of Aviv, the month in which Hag Ha-matzot occurs – and this is the Hag/feast that is mentioned in verse 4.
Now let me prove it to you.
Let's start with Verse 5: For it is a statute for Israel, an ordinance of the God of Jacob.
Note that the verse does not say that there is a "commandment" to blow the shofar. It only says that something is a statute for Israel and ordinance for the God of Jacob. My theory is that this something is Hag Ha-matzot – see Exodus 13. (It is possible that the statute/ordinance refers both the new moon and to the Hag, but I don't have to get into that for my point.)
Verse 6: He appointed it in Joseph for a testimony, when He went forth against the land of Egypt.
Hag Ha-matzot is indeed the testimony of what God did when He went forth against Egypt. And in fact, per Exodus 13, we are required to retell this event every year, as if we are testifying that it happened. And that same passage also says that the Exodus will be a sign on our hand and a memorial. Another concept related to testimony. [I note that many Rabbanite interpretations suggest that it was "Joseph who went out and ruled over Egypt" and that it was not "God who went over Egypt.] (Again here too it is possible that the testimony is the new moon/full moon of that month, and not specifically Hag Ha-matzot.)
Verse 7: I removed the shoulder from his burden (sevel).
This seems to be a direct reflection of Exodus 6:6, in which God tells Moses to tell the Israelites that He will deliver them from the burden (sevel) of Egypt.
Verse 8: . . . I proved thee at the waters of Meribah. Selah.
This proving at the waters of Meribah occurred in Exodus 17. Recall that the Exodus itself occurred in Chapter 13, so we have progressed from Exodus 13 to Exodus 17. (I acknowledge that the reference to Exodus 17 is much more explicit than the reference to Exodus 13 above.)
Verses 10-11: There shall no strange god be in thee; neither shalt thou worship any foreign god. I am the LORD thy God, who brought thee up out of the land of Egypt . . . 
This is a reference to the 10 Commandments, which is given in Exodus 20, just a few chapters after the testing at Meribah.
Here is a quick summary of the crux of my interpretation of these first 11 verses. (Note: that verses 12-17 also suggest that this is about Giving of the Torah . . . but I don't need to get into that in order to make my point.)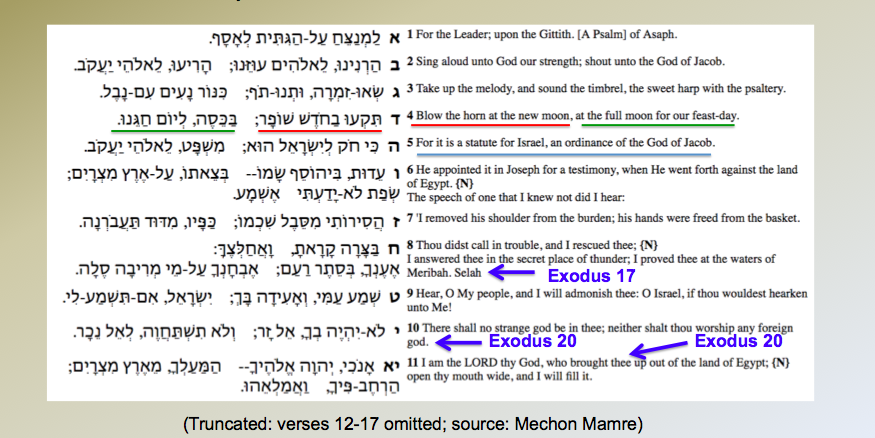 So there you have it. My theory is that this is not at all talking about the shofar on Yom Teruah, rather it is talking about giving praise (via song, melody, timbrel, shout, and shofar) to God during the recollection of the month of Exodus. The Psalmist is not saying there is a commandment to do this, he is using flowery, poetic language encouraging people to acknowledge this important event.
Finally, I note that the Karaite sage H' Yefeth ben Eli believed that this verse was apparently read during Shavuot, which shows that at least one other Karaite connected this with the Giving of the Torah. I only learned of his view after I figured it out for myself.  If only we could get the works of these great Karaite sages published.
Now, you tell me. How'd I do?

Loading ...
* * *
FN1: I actually removed this from the learning video which I will post, because there was a glitch in the sound.
FN2: BTW, I will check to see whether Psalms 81 appears in the Karaite liturgy for Yom Teruah. It would not surprise me, because the Karaite liturgy tends to find all related themes and weave them together. I could see Psalms 81:4 being woven in because of the connection to the new moon.