If Biblical exegesis were anything like Sabermetrics, no one would think we are commanded to blow the shofar on Rosh Hashanah.
Well, to be precise, the Rabbinic community may continue to believe that we are commanded to blow a shofar on Rosh Hashanah; but Karaites would continue to be skeptical of any claim that such a commandment exists for Yom Teru'ah – the biblical name for what people call Rosh Hashanah.
The Torah also refers to Yom Teru'ah by the name Zicharon Teruah.  The word teru'ah has many potential meanings. One of them is "shouting" and another of them is a "blast" of a horn (including the shofar).
As I mentioned last year, Karaites generally believe that the word "teru'ah" means shouting and Yom Teru'ah means "Day of Shouting" – as in "shouting in prayer." Accordingly, Karaites do not believe that we are required to blow the shofar on the holiday. The problem is that without more context, we just don't know what type of teru'ah we are supposed to make on this day.
This year, I thought I'd add some Scriptural context. In short, the noun teru'ah appears 36 times in 33 verses.  Since we are trying to deduce what is the meaning of "teru'ah" in Zicharon Teru'ah (Num. 29:21) and Yom Teru'ah (Lev. 23:24), I've excluded those from my analysis – leaving us with 34 references in 31 verses.
Here is the breakdown: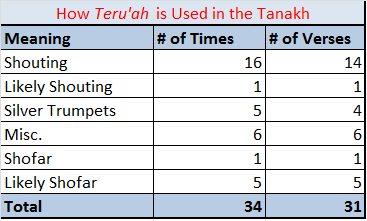 And here is a listing of how I characterized each verse. I did my best to be fair in my categorization. If you think a certain verse is characterized incorrectly, let me know. (Click on image for full-size version.)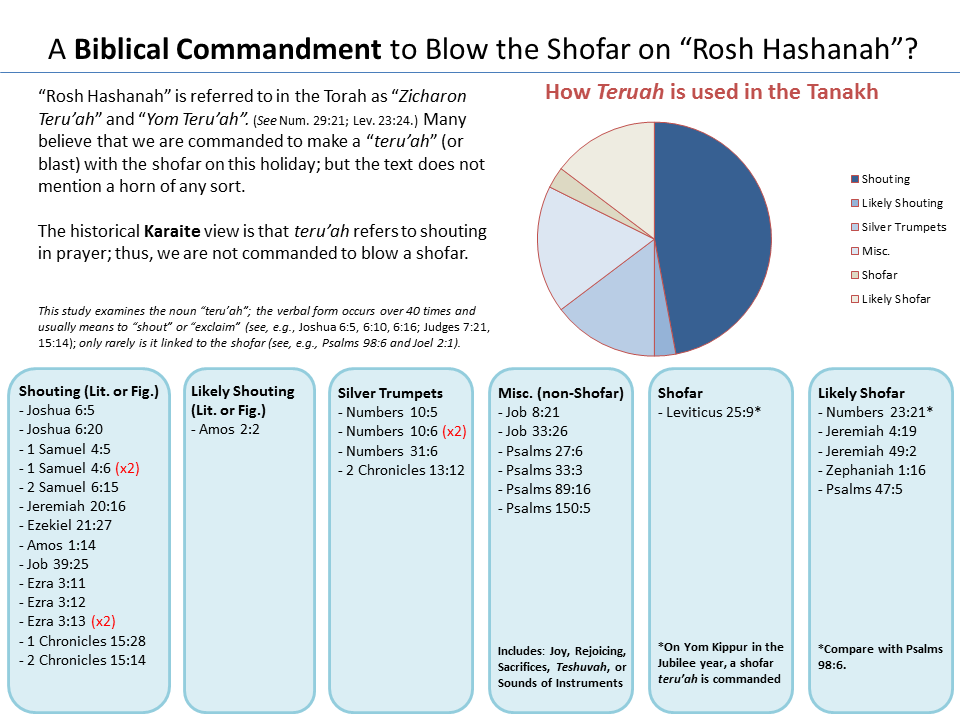 This actually was more interesting than I thought it would be. For example, Number 23:21 mentions "teru'at melech" (or "teru'ah of a king") – and makes no reference to a shofar at all. Nonetheless, I categorized this verse as likely relating to the shofar because of the similarity with Psalms 98:6. But Psalms 98:6 also mentions silver trumpets. On balance, though, I think I've got this one right.
As I said at the outset, if this were about numbers no one would think we need to blow the shofar. But this is not about numbers: it is about people, and tradition, and spirituality, and comfort. So wherever you are on this issue, I hope that you have a meaningful holiday.*
*    *    *
*For today, I'm only discussing whether there is a commandment to blow the shofar.  I note that some Karaites believe it is actually forbidden to blow the shofar on Yom Teru'ah, because they deem it an act of melachah. Other historical Karaites, such as Daniel al-Kumisi, thought that blowing the shofar was a good practice to promote teshuvah.  I'll deal with all that next year; I pray.