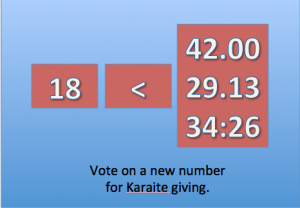 Many Karaites (especially those like me who had a great Karaite awakening in life) feel some discomfort with the number 18. Don't get me wrong: we don't lose sleep over it; but we definitely wonder whether Karaites can find a different number to associate with gifting. To-date, the most common number of Jewish gifting remains $18 (and multiples thereof), because in the gematria, $18 represents life. It also represents a whole bunch of other things, but let's not mention those.
Since Karaites tend to avoid gematria for mystical purposes, I thought our online community can vote for an official number or Karaite gifting.
First, an anecdote. About 10 years ago, Eliezer ben Efraim (who helped found the Karaite Jewish University) and I were walking around Daly City. He said that we need a number other than 18, and he suggested 24. He said that any self-respecting San Franciscan would know that Willie Mays wore 24 and would be honored to donate to the Karaite Jews of America in a number representing Willie Mays.
Not a bad thought. This week, I checked the gematria of 24 and it turns out it represents trust/security. Again not bad. But it also represents "slimy" and "oppressed." Eh. I think we can do better all the way around. (And I hope this analysis shows you the problems with any gematria or hidden meanings.)
So, I started thinking about how I would come up with an official number for Karaite gifting. I really only had a few rules:
No Gematria: I don't mind direct numerical references, but I won't suggest anything because of a supposed mystical meaning.
Karaite Strong: The number must have some direct connection to Karaite history or theology.
>$18: The number has to be larger than $18. After all, if we're going to ask for money, it might as well be more than $18. Am I right?
So, here are my suggestions:
Suggestion A: $42
Deuteronomy 4:2 – Deuteronomy 4:2 says that we should not add or subtract from the words God commanded. This verse has become a favorite of Karaites when replying to rabbinic additions to the commandments. It also serves as a lesson to Karaites ourselves – cautioning us (especially with respect to our later sages) that we too can be guilty of this.
April 2: a National Day of Karaite Giving – April 2 (or 4/2) can become a day of Karaite giving. Think about that. Every year, we can could do a fundraiser for various Karaite causes, The Karaite Press can offer a $42 book package (not tax deductible), and we can raise money and awareness for Karaite Causes.
Jackie Robinson & Mariano Rivera – Both Jackie Robinson and Mariano Rivera wore the number 42. Respect. [*]
Suggestion B: $29.13
Isaiah 29:13 – Isaiah 29:13 was perhaps the rallying cry of the Karaites at the height of our existence. The verse cautions the people of Israel against following "commandments of men."
Thumbing our Nose at 13 –  One advantage of this number is that it makes clear that we are not afraid of the number 13 (which many Americans believe to be bad luck).
Some Famous Baseball Players wore 29 and 13 – I did not know this, but quite a few baseball players wore the number 13, including Omar Vizquel and some others. And a bunch of players were number 29.
Suggestion C: $34.26
Exodus 34.26 – Exodus 34.26 is one of the famous milk & meat verses – prohibiting  cooking a kid in its mother's milk.
Everyone Loves a Cheeseburger: Well, not everyone. But as I have suggested elsewhere, you can have Cheeseburgers & Paradise.
Some Famous Baseball Players wore 34 and 26: Kirby Puckett wore number 34, and Wade Boggs wore 26. Talk about hitting for power and average.
Alright, so go ahead, and vote. And if you think I got this wrong and want to stick with 18 . . . that's an option too.

Loading ...
Remember, there are many Karaite causes out there that could use your support. In addition to voting, I humbly ask that you make a donation (in any amount) to the Karaite causes of your choice or make a purchase to support Karaitica. Some suggestions: The Karaite Jews of America; Nehemia Gordon's Makor Hebrew Foundation; Purchasing a book (not tax deductible) from The Karaite Press. Of course, feel free to donate to and support others. [**]
*   *   *
* I only am providing the numbers of famous baseball players as fun tie-in to the original conversation I had with Eliezer. I do not intend to convey that any number would harness any supernatural abilities from the association with these players. Plus, the World Baseball Classic just concluded.
** Disclaimer: none of these organizations have asked me to suggest their names, and I do not receive any compensation for mentioning them or for any donations/purchases.