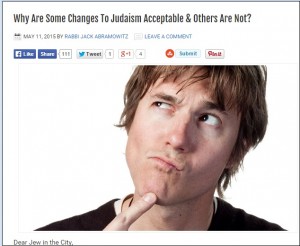 There is a rabbinic tradition that Abraham and Sarah were so welcoming that they would leave their tent open on all four sides in order to welcome strangers. [1.] So it always amuses me when Rabbanite Jews discuss which Jewish thoughts are not welcome in their modern tent.
Just this week, Rabbi Jack Abramowitz wrote a very good and thought provoking piece on who is "in the tent." And today, I invite him into my tent, even though he won't welcome me into his.
Let me first start by saying that the Jewish world is too small for us to be acrimoniously divided. We don't have to agree on everything (or on anything for that matter); but wherever humanly possible, we can welcome all Jews into our tent. That's why I'm a bit perplexed by Rabbi Abramowitz's views as to who is the tent and who is left out in the cold.
For context, here is the question that the Rabbi was asked:
Why does Orthodox Judaism consider some changes – like Maimonides' approach, kabbalah, or the Chasidic movement as "kosher," but things like the Karaites' philosophy and other non-Orthodox movements throughout history as non-acceptable changes? [2.]
And here is his response with respect to Karaites:
You mention the Karaites. This movement dates back to the 9th century. It was preceded by such movements as the Sadducees and the Boethusians, which date back to the time of the second Temple. What all these movements have in common is that they reject the Oral Law. According to Orthodoxy, acceptance of the Oral Law is an inherent religious belief. A movement that teaches otherwise cannot be accepted as just another approach. It's outside the tent.
If Rabbi Abramowitz is simply saying that Karaites are outside of the Orthodox Jewish tent, then I would agree – Karaites are outside the the Orthodox Jewish tent. But that does not seem to be what he is saying. It seems that he is saying that Karaites are outside of the Jewish tent (not just the orthodox tent). [3.]
Devout readers know that I spend most of my posts dispelling the notion that there was some impermeable barrier between Karaites and Rabbanites. In fact, we see that Karaites and Rabbanites are in the same tent, even if (at times) they are eating at different tables:
While these events show (at least to me) that the Jewish tent is filled with Karaites and Rabbanites, they also suggest that our differences are only as big as we perceive them. As Bob Marley sang, "Emancipate yourself from mental slavery; none but ourselves can free our minds."
There is no historical or even philosophical reason that the Jewish tent cannot include both Karaites and Rabbanites. The only reason to exclude a historically Jewish movement from your tent would be if you thought your tent could not withstand open and honest discussion about the Torah and how it applies to our lives. That is, you would only exclude Karaites or Rabbanites or Essenes or Pharisees or Sadducees if you think your tent is not strong enough to weather the ensuing debates.
I cordially invite Rabbi Abramowitz to have a meal with me in my tent. I'll even abide by his standards of kashrut for the meal. I know my tent is strong enough. And I know the tent of the Jewish people is strong enough. And I know my tent is the tent of the Jewish people.
Rabbi, you may reach me at Shawn@abluethread.com
*   *   *
[1.]  Here is a short explanation of the origins of this tradition.
[2.] As you might presume, I deny the premise of the question. I don't think that Karaite Judaism "changed" anything. Rather, Karaite Judaism and Rabbanite Judaism both arose in response to a change in the Jewish world: the destruction of the Temple and the fall of the priesthood.  This is a topic for another day, though.
[3.] He states, "Orthodox Judaism is a bigger tent than most people think." This might suggest that he is only talking about the Orthodox Jewish tent. But he then continues, "There's more than one way to look at things and more than one way to get things done. I was raised reform but it never spoke to me." Reform is clearly outside the "Orthodox" tent – but Rabbi Abramowitz does not state that they are outside the tent. This leads me (and many others) to understand that he is talking about who is in the Jewish tent in general. Interestingly, many reform Jews deny the Oral Law (and even the divinity of the written law).