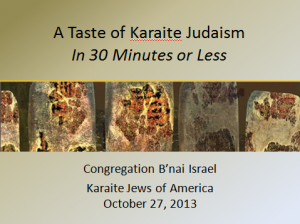 On October 24, 2013, a group of 5-7th graders from a conservative synagogue visited Congregation B'nai Israel, the home of the Karaite Jews of America. This was my first presentation on Karaite Judaism in over a year. I was a bit rusty but it was good to get back in the saddle – even if my shirt collar was not behaving.
We recorded the presentation and it appears after the jump. Feel free to drop your comments below and let me know if there are things you'd want to see me incorporate into future presentations.
A few notes (for both part 1 and 2):
I had wanted to encourage these students to take pride in their Jewish tradition, even though it is something difficult to do the right thing as a minority. I don't think that came across as well as I had wanted;
I slipped up at one point and stated that the reason Karaites pray on rugs is likely due to the Rabbinic prohibition of prostrating on "concrete." I should have said "stone," as I did elsewhere during the presentation; and
When discussing the differences between Karaite and Rabbanite dietary laws, I was asked why shawarma is generally not permissible for Karaites. I should have just said that it usually seasoned with a particular type of fat that is specifically prohibited in the Torah.  Instead I grossed the kids out by telling them where the fat comes from.
Anyway, please let me know how I did and, by all means, tell me what you would like to see in other presentations.  Also, if you have any technical suggestions – I know, I need better mic placement.
(And if anyone knows how to keep the screen from "flickering/rolling" when being filmed, let me know.)