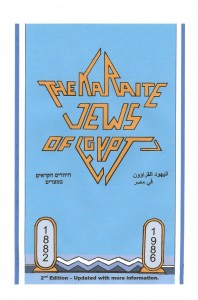 I don't believe I'd ever met Mourad El-Kodsi (at least not when I was old enough to remember), but everyone says he had a special spirit. Despite his failing health, he worked tirelessly to finish the Second Edition of his magnum opus, The Karaite Jews of Egypt (1882-1986). He passed away just a few months after the book went to print, and today his work is a must have.
The Karaite Jews of America has generously donated 18 copies of the book's Second Edition for A Blue Thread's November 2013 give-away.
Books about the Karaite Jewish community written by a member of the community do not surface everyday. But when they do, they have information that only an insider can provide. This book is packed with pictures, anecdotes, and copies of otherwise inaccessible historical documents.
And it seems like every time I give someone a copy, he or she finds something remarkable that I glossed over. For example, someone recently used the book's map of the Karaite Jewish Quarter in Cairo to locate an old Karaite synagogue. [1.] She sent me this picture of the sealed-off Simcha synagogue just a few weeks ago:
And I only recently noticed that book contains a letter written in Arabic, which Mourad el-Kodsi explains is from the High Priest of the Samaritan community in Israel. According to El-Kodsi, the letter indicates that the Simcha synagogue once belonged to the Samaritans. [2.] I don't know whether that is correct as a factual matter, but I do know that the book is filled with historical gems such as this letter.
And because Karaite Jews of Egypt touches on it, I think this would be an opportune time to mention the Karaite community's somewhat recent  historical (and, in my opinion, shameful) practice of prohibiting former Rabbanites from formally affiliating with the Karaite community. [3.] This has changed gradually over the past 25 years, but we still have a long way to go with respect to making Karaite Judaism more accessible to Jews who are looking to affiliate (formally or informally) with the Karaite community.
I obviously could not interview Mourad El-Kodsi about his book, but I recently spoke with one of his daughters. After we spoke, she emailed me the following: "My mother and father were both actively working [to] preserv[e] the Karaite [tradition]. My father wanted to share his knowledge and wisdom about the Karaites and he wrote the book to share with the community."
*   *   *
[1.] M. El-Kodsi, The Karaite Jews of Egypt: 1882-1986 (2nd Edition).
[2.] Id. at p. 148.
[3.] Id. at 299.
*   *   *
A Blue Thread is giving away 18 print copies of The Karaite Jews of Egypt (2nd Edition). A Blue Thread will even cover the shipping. To be eligible for the give-away, simply comment on the post below. Your comment could be anything from "Choose me!" to "I love this book." I'll hold a random drawing on November 11th, and will notify the winners via email. My only hope is that after you read the book, you will post your thoughts to the comment section below. (If you've already read the book, feel free to do so now.)
This is our last give-away for our Fall 2013 Book Club. We hope you've enjoyed this series, and we hope to do something similar again.