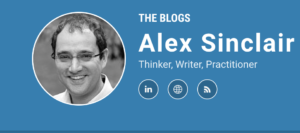 Alex Sinclair is a thinker. Just ask him. He'll tell you. Unfortunately for him – and for his readers – his thought process short-circuited about 1000 years ago, during a time when polemics were commonplace and marginalization was fully accepted.
To be honest, writing a post about Alex Sinclair was not on my list of things to do today. I never even had heard of Sinclair until a relative (Go Lichaas!) sent me Sinclair's blog post, "The Karaite Court." My guess is that the target audience of his post hasn't heard of Sinclair either; so he used the term Karaite in the title of his post to attract the largest audience possible – because virtually everyone he is trying to reach has heard of Karaites (for better or worse).
I used Alex Sinclair's name in the title of my blog post, because – frankly – he is the only one I am trying to reach.
You can read his article here. It truly is cringeworthy. Sinclair's main thesis is that the Supreme Court's decision overruling Roe v. Wade is the hallmark of a "Karaite Court."
At its core, Sinclair's argument is the same as the memes going around depicting the current Supreme Court to be Islamists.
I doubt that Sinclair – again, a self-professed pluralist (and perhaps, liberal?) – would approve of this messaging. But when it comes to Karaites, somehow pluralistic values go out the door. To be clear, the recent Supreme Court decision overturning Roe v. Wade is not based in Islam and is not based in Karaism.
I'm going to respond to a few aspects of Sinclair's post that are particularly worthy of rebuttal. But don't assume that because I didn't comment on a different piece of his post that it is not equally wrong and vomit inducing.
Alex Sinclair is not a Pluralist (and any adjective I have for him is impolite):
Here's what Sinclair wrote (emphasis added)
Of course, as a pluralist, I say live and let live, but however fascinating Karaite theology may be, it's not Judaism. To be a Jew is to be a rabbinic Jew.
As a friend pointed out, this is the most hilarious (and infuriating) section of the whole thing. He identifies as a pluralist, but then goes on to exclude Karaite practice from Judaism. Usually, when one says they are a pluralist, they establish the biggest tent possible. For example, Sinclair taught at the Jewish Theological Seminary for 20 years. This is the leading seminary for the Conservative Movement.
Is the Conservative Movement in the pluralistic tent of Judaism? If so, where does he draw the line? Reconstructionist? Humanistic? Reform? We don't actually know.
But we do know that Karaism is out of bounds. This is strange because Karaism is older – much older – than the Conservative Movement. He, of course, is free to define terms (like "Judaism") however he wants; but it is rather rich to say that Karaism is not Judaism given that he references Karaite Judaism in his post.
Karaite Judaism rejects the oral law and rabbinic Judaism, focusing only on the observance of Biblical laws as they appear in the Bible.

The "originalist" approach that now appears to be the majority position of the US Supreme Court is the American equivalent of Karaite Judaism.
Sinclair inherently knows Karaism is a form of Judaism. He just needs us not to be a form of Judaism so he can manipulate his readers. This inconsistency in his terminology brings me to the most important point . . .
Alex Sinclair Doesn't Care About Karaites – He's Just Using Us.
Sinclair's true beef is not with Karaites. He is writing to (presumably) Orthodox Rabbanite Jews who (apparently) are happy that the Supreme Court overturned Roe v. Wade. Karaites are merely a literary device to explain to Orthodox Jews that if you support overturning Roe v. Wade, you are just like a Karaite. As different friend pointed out, Sinclair probably isn't expecting a Karaite to respond to him; he is hoping some Orthodox Jews get riled up, "Don't call me a Karaite! How dare you?"
Karaites are, thus, reduced to the bogeyman.
On brand, Sinclair chooses the most cheesy examples to describe Karaites (we don't light shabbat candles, we don't wrap tefillin, etc.). He doesn't actually engage with Karaite thought. He just wants to show how different we are from Rabbanites. It is rather peculiar for an educator (or at least a former educator) to reduce a population to a caricature – especially when he knows Karaites still exist.
There still exists a tiny community of Karaite Jews in pockets of Israel (Ramla, Ashdod and Beersheba).
This is what makes his blog post particularly cruel. I hope he finds peace.
Alex Sinclair Doesn't Understand Karaism
According to Sinclair, using the Torah to guide us is un-Jewish.
To go back to our constitutional document – the Torah – and create halachah (Jewish law) from its original text, is just about the most un-Jewish thing you can possibly do. Why? Because we get that law changes.
What does this even mean? There are plenty of examples where Karaite interpretation has changed over time, even though the text (the Torah) has stayed the same.
For example, the predominant Karaite view in the medieval period was that fire was forbidden on Shabbat (even if lit before Shabbat). Some later Karaites believed that fire was permitted to the same extent as the Rabbanites permit it. Similarly, there was an evolution of Karaite views towards forbidden marriages, and on and on. In all of these instances, if the individual Karaite believed (after sincere search) something to be permitted or forbidden, she could practice as she chooses.
As yet a third friend pointed out (I have at least three friends!), there are even examples where the majority Karaite view is not 100% textual or original. For example, upon divorce, the Torah requires a man to provide his wife a sefer keritut (or "get", divorce document). The purpose of the divorce document in Deuteronomy 24:1-4 was to give the woman freedom to remarry. But what if the man refuses? The woman would be stuck (anchored) to the man. She'd be unable to marry anyone else – even while the man takes a "second" wife.
The accepted Karaite view is that a bet din can issue the woman a divorce document in the man's place. This Karaite view is written nowhere in the Torah – but it is not controversial within Karaite quarters. (In contrast, a Rabbinic bet din, cannot – according to Rabbinic Halakha – issue a divorce document on behalf of a man refusing to do so.)
In this last case, Karaites applied the principle of hekesh (inference). The purpose of hekesh is to determine the underlying principles of the commandments and apply them to new situations (such as, "what do you do if the man refuses to give the divorce document").  Of course, Sinclair would have you believe that Karaites don't know how to think through new situations, because he – not we – is a thinker.
Alex Sinclair Wants You to Believe he is a Thinker
Here is how Sinclair describes himself.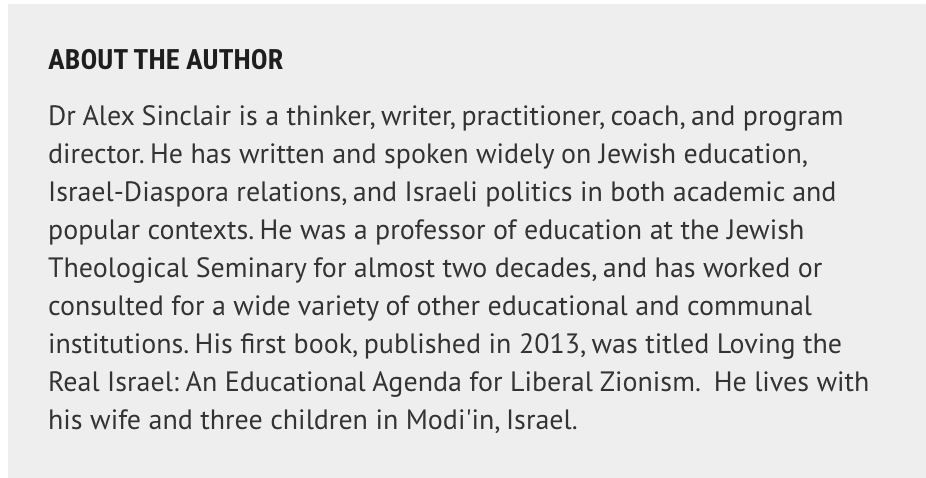 The opening line of this post ("Alex Sinclair is a thinker. Just ask him. He'll tell you.") is a tribute to the late Don Rickles.
(source: https://www.youtube.com/watch?v=RONkAEMduSc)
The Unedited Version of this Post was much Better
I really did my best to be kind in this post. I had a bunch of zingers, but I thought better of it. (<– see what I did there.)