A few weeks ago, I mentioned how Azriel Kowtek shared her passion for blue fringes and tying tzitzit with several of us who attended the KJA's shavuot gathering. Last week, I wrote about the importance of reviving Karaite literature. And this past Shabbat, Rabbanite Jews read the Torah portion related to the commandment to wear blue fringes. [1.]
In the Rabbinic tradition, women are not required to wear blue fringes. Let's see what the early Karaite literature says on the topic.
I'm a Karaite; I have to start with the text of the Tanakh.
So let's see what the Torah says: "Speak to the children of Israel [b'nai Yisrael], and tell them, they shall make for themselves throughout their generations fringes in the corners of their garments, and that they put with the fringe of each corner a thread of blue.  And it shall be unto you for a fringe, that ye may look upon it, and remember all the commandments of the LORD, and do them; and that ye go not about after your own heart and your own eyes, after which ye use to go astray; that ye may remember and do all My commandments, and be holy unto your God." Numbers 15:38-41 (JPS Translation.)
The key here is (with respect to this verse) whether "b'nai Yisrael" means "children of Israel" or "sons of Israel." Both are theoretically possible – though, you'd have to give me a good textual (or even cultural) reason why the commandment would be directed only to the men.  But let's see what the Sages say.
The earliest Karaite source of which I am aware to discuss this topic was Hakham Yaqub al-Qirqisani, who lived in the first half of the 10th century. He wrote Qitab al Anwar w'al Maraqib ("The Book of Lights and Watchtowers"), his magnum opus, in Judeo-Arabic; and Professor Leon Nemoy (Z"L, pbuh) transcribed the work by hand into Arabic. According to Nemoy's rendition, Qirqisani held that women are obligated to wear tzitzit.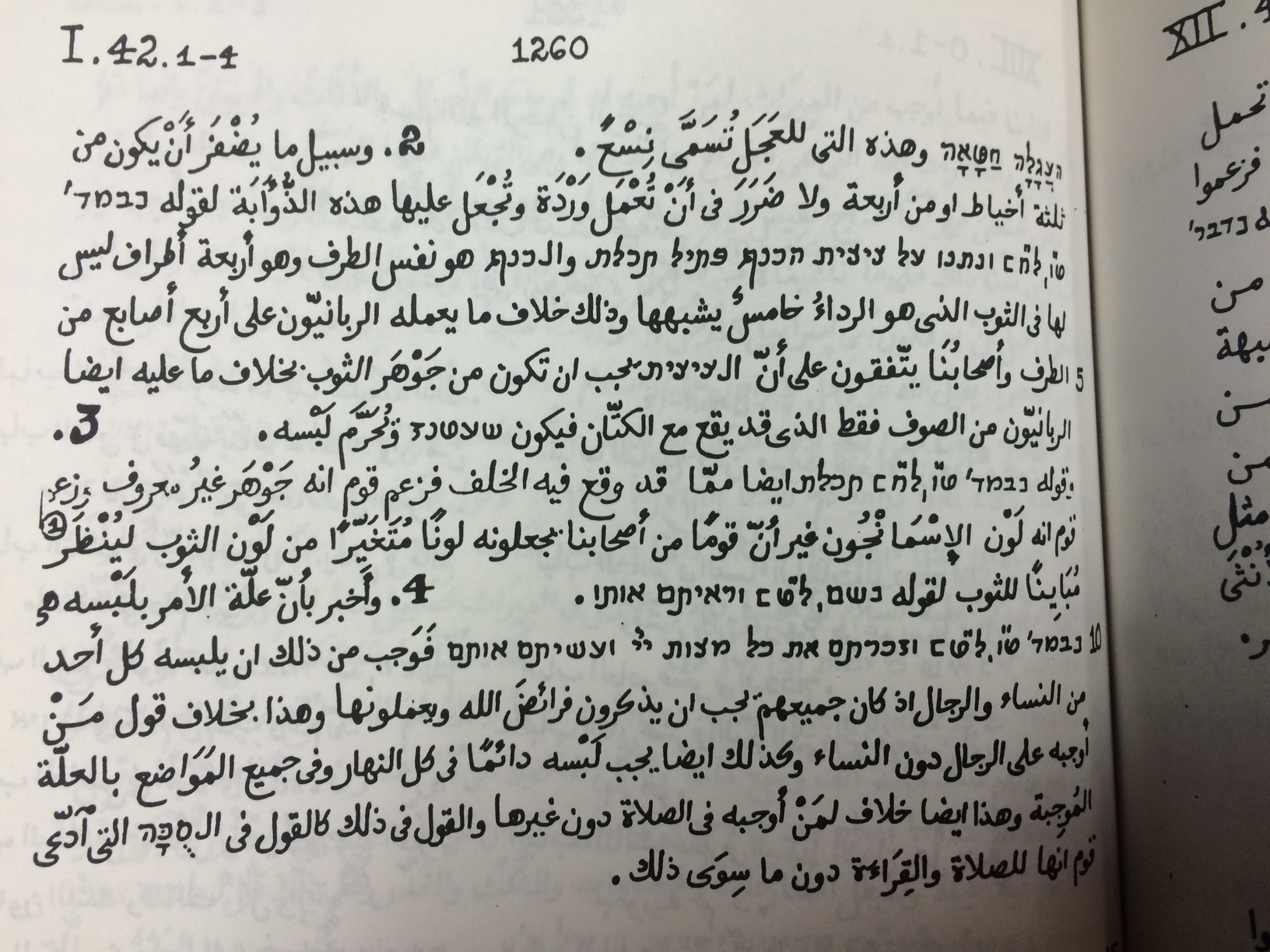 The pertinent part of sentence 4 says, "I inform that the reason  for the command to wear it is: '…and remember all the commandments of the Lord and do them (Num 15:39)'. So out of this it is obligatory to be worn by everyone of the women and men since all of them are obliged to remember G-d's obligations and do them and this is different from he who says that it is obligated on men and not women." (Translation adapted from Acting Rav Joe Pessah.)
Qirqisani was not the only Karaite Sage who held that women must also wear blue fringes. According to Mikdash Me'at, late 10th/early 11th century Karaite Sage Levi ben Yefet also held that women must wear tzitzit. And Hakham Moshe Firrouz recently informed me that 12th century Karaite Sage Yehudah Hadassi also held that women must wear blue fringes. [2.]
I share these early Karaite opinions not because they are "correct".  These Karaites could be wrong on this issue or on every issue.
I share them because all of this literature is virtually lost and unavailable to most Jewish scholars and students – including historical and new Karaites. And we need to change that. Exposure to new ideas – even if we ultimately reject them – sharpens our own views of halakha and tradition. And it enables us to live out an important part of the Karaite creed: to test our opinions against the opinions of others.
*    *    *
[1.]  The Karaite and Rabbanite parashiot do not always line up. For example, this past weekend in Daly City, we read parashat Korach.
[2.] קשירתו כי גם היא בת ישראל מבני ישראל בדומה במצות ציצת:  קול צווי דבר אל בני ישראל ואמרת אליהם ועשו להם ציצת:  קדושת מצותו גם האשה בקיום כל המצות ככתוב וראיתם אותו וזכרתם את כל מצות ה' ועשיתם אותם כצווי צורך:  "רמיזתו ככתוב הקהל את העם" האנשים והנשים והטף וגרך אשר בשעריך:  רפידתו למען ישמעו ולמען ילמדו ויראו את ה' אלהיכם ושמרו לעשות את כל דברי התורה הזאת תורתך:
(אל"ב יג', אות ק')