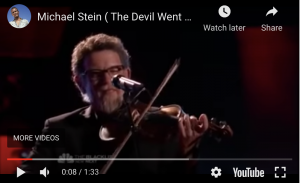 When I was a kid, I received my formal Jewish education at Peninsula Sinai Congregation in Foster City, CA. There, I met a guy named Aaron Moskowitz, who was one year older than me. He was always a nice guy. But poof, just like that he was gone. It turns out he moved away and I never actually interacted with him again until we connected on facebook, through a group for alumni of Alpha Epsilon Pi (the Jewish fraternity).
I asked the group whether anyone could help me create new, modern music for Karaite songs. I was even open to something like what Jimi Hendrix did to (and for) the National Anthem. Aaron was one of many people who said he could help. He said the project contained his two favorite things: Rock & Roll and Judaism.
Aaron loves the electric guitar and loves creating music that has a live-from-the-bar-smoke-filled-room feel. He also told me he could get Hazzan Stein on vocals. For those of you who don't know Hazzan Stein appeared on The Voice, singing and playing "The Devil Went Down to Georgia."
***
***
I thought that was pretty cool, so we moved forward with a demo. I chose to start with the song She'arekha (as it appears in Karaite prayerbooks) because the first lines of the selection is by a famous Rabbanite poet, Shelomo ibn Gabirol; and if I am going to team up with non-Karaites for this project, it seemed like a great place to start. I actually wrote about She'arekha here previously and explained how all communities today are butchering it.
So below is Aaron's and Hazzan Stein's rendition of She'arekha. I note that this is a demo because it was done under covid conditions and we purposely did not get additional singers and musicians, so Aaron used technology to alter Hazzan Stein's so Hazzan Stein is signing harmony with himself. If you like Rock & Roll and a little bit of blues, you will like this song. It is a beautiful song and very well put-together. My two vocal favorite parts are when Hazzan Stein goes deep to sing Ma-Tovu Ohalekha Ya'akov (at 3:24) and when he starts improvising (at 4:42). These were just Hazzan Stein's flourishes as he was getting a feel for the song and adding his personal touch to it. My favorite musical parts are the slow warm open, and the last 80 seconds or so when Aaron let's it rip a bit on the electric guitar.
***
***
After hearing this, I want to do more.  I want to get more singers to get more musicians and get more Rock & Roll (or blues!) renditions of Karaite songs. Maybe one day we'll even have a music category called Karaite Rock. Let me know what you think.