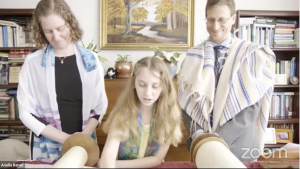 "Ariella chanted the Torah portion using Egyptian te'amim (trope) – a combination of Karaite and Rabbanite – because she likes the sound of it." Lex Rofeberg of Judaism Unbound sent me this in a facebook message with a link to the recordings. My reaction, and I quote, was, "Holy Smokes". Is that phrase sacrilegious? Who knows.
In any event, I was super moved by this message from Lex that I went and watched the entire bat mitzvah ceremony of someone I had never met, just to learn more about this Bat Mitzvah who wanted to put some Karaite melodies in her Torah Reading. I learned that she had a great-grandfather from Egypt and then I had to reach out to interview her.
1) I understand that you have an Ashkenazi Jewish great-grandfather from Egypt. Do you have any favorite stories that he shared with you?  
Ariella: My great grandfather passed away decades before I was born. and I therefore don't remember him. He grew up in Cairo, Egypt, went to Palestine, and helped set up the Arab educational system in the new State of Israel.
2) How did you learn about Karaites and where did you find the recordings for the Karaite trope for your bat mitzvah?
Ariella: I learned about Karaite trope by researching "tropes that sound cool". I didn't want to use Ashkenazi trope because I don't like the way it sounds, and I like to be different. My mom and I found Egyptian Karaite trope at this website: https://www.karaites.org/traditional-karaite-torah-cantillation.html. I started learning it from there and read Torah once at my school using this trope. Then my mom found me a teacher named Jenni Asher, who taught me her family's te-amim, a combination of Karaite and Rabbanite melodies.
[Editor's note: You can hear the direct Torah cantillation at this site here for each torah portion. And you can learn the ta'amim in this video.]
3) You represented many different traditions in your readings: You read your Torah portion with a mixed Karaite/Rabbanite trope; you did your haftarah in an Ashkenazi melody. Why was it important to you to include so many different cultures?
Ariella: I find it really important to include other cultures, and I think they're really interesting. The reason I did Ashkenazi Haftarah trope was because I didn't have the time to learn another Egyptian trope – the tunes were so hard to learn because they had so many little jumps and dips. I hadn't learned Ashkenazi Haftarah trope yet, but my family informed me that it was easier. I learned my Haftarah two weeks before my Bat Mitzvah, with help from my dad in particular.
4) You did your Bat Mitzvah with IKAR – an organization I have followed. Many of our readers won't know about IKAR – what is IKAR?
Ariella: IKAR is an inclusive, innovative, non-denominational, and progressive Jewish synagogue in Los Angeles.
[Editor's note: You can learn more about IKAR here.]
As I conclude this post, I also want to note that Ariella shows her creativity through her writing. She even wrote a midrash, and you can check it out here. This is also a good time to point out that some Karaites had no problem incorporating rabbinic midrash into their Karaite works. Maybe one day someone will incorporate something from Ariella into Karaitica.
A hearty congratulations to Ariella!