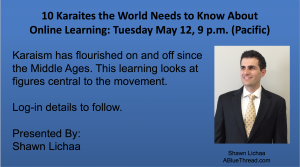 Shabbats are the toughest.
I used to look forward to them and they used to bring me so much joy. Now they depress me.
And I carry that sadness for days.
I was supposed to be the Hazzan this Shabbat at the Karaite synagogue in Daly City, California. I was supposed to be sitting next to my father who *always* showed up on time and who always got the service started because I only rarely showed up at the start.
I was supposed to be holding my son and daughter as they come up to the bima to be next to me when I pray. I was supposed to be fielding questions from my son while trying to conduct a service. I was supposed to be constantly adjusting my daughter's tallit. I was supposed to glance over at my wife as she smiles watching this whole thing unfold.
I am so sad to miss this.
I miss the old men discussing (some may say 'bickering') about whether we are supposed to read a certain portion this week or whether we are supposed to skip it and add something new because we are in some period of the year that no one really focuses on anymore.
I miss the old women learning to read and pray and recite and chant part of the Karaite liturgy. It was so beautiful to see their progress.
I miss the food. God how I miss the food.
I miss the feel of the rug under my feet. I miss kneeling in a place of prayer. I miss getting up slowly because the knees are not as limber as they used to be.
I miss digging deep and hitting my favorite notes. I miss rushing past the parts of the service I don't really chant well. I miss stopping the service to address the congregation about something I had just observed in the way the liturgy was constructed.
I miss the off-key voices. I miss the voices weakened by age. I miss the slow readers, the fast readers, and the non-readers.
I miss it all.
In honor of everything I miss and perhaps in no small part to help me with my Karaite depression, I will be holding an online learning tonight: The 10 Karaites the World Needs to Know. Join me if you can. If not, you can catch it on youtube at some point.
May you shelter safely.
Details at this link.