Oy. Where to begin. Just over a month ago, I spoke at a Jewish high school about issues in Karaite Judaism – particularly as they implicate Shabbat and technology. Speaking with me was a conservative rabbi who happened to grow up at the same conservative synagogue that I did – though we did not know each other previously. This synagogue housed the KJA and our Shabbat prayers from 1984-1990.
After a quick introduction – curses started flying.
As all discussions of Shabbat observance go, we quickly got to the fact that the medieval Karaite interpretation of the fire prohibition in Exodus 35:3 is that all fire is prohibited on Shabbat (even those fires that were lit before Shabbat).
The standard Rabbanite interpretation of Exodus 35:3 is:
Ye shall kindle no fire (lo teva'aru esh) throughout your habitations upon the sabbath day. (JPS 1917)
And the medieval Karaite interpretation of Exodus 35:3 is:
Ye shall cause no fire to burn (lo teva'aru esh) throughout your habitations upon the Sabbath day. (Adapted from JPS)
In essence, the Karaites and Rabbanites disagree on whether the word "teva'aru" means to kindle or to burn.
I wanted to use this particular verse to show the class that every translation of the Tanakh is an interpretation and that when they read the Tanakh in English they are being taught someone's interpretation of the Tanakh. In order to separate themselves from someone else's interpretation and theology, they need to understand Hebrew and look at the linguistic and biblical evidence for themselves.
So I asked the class's teacher to grab me any Tanakh from her bookshelf so that I can show the class that the translations (almost universally) assert the Rabbinic opinion. She grabbed me an Artscroll Chumash with commentary. Artscroll, as can be expected given its Rabbanite outlook, translates the verse in accordance with Rabbanite opinion.
You shall not kindle fire in any of your dwellings on the Sabbath day.
This is a perfectly fine translation, because the book is intending to promote the Rabbinic view. If I were to do a medieval Karaite rendering of the verse, I would translate it as I have set forth above: Ye shall cause no fire to burn. And this would be okay too.
But then, I took a look at the comment and read it aloud to the class.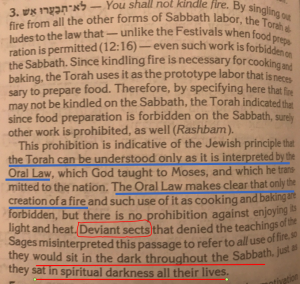 Well, that escalated quickly.[1]
And as soon as I read the part about "spiritual darkness" one of the students said, "snap." Sigh.  Snap indeed.
As an aside, this reminds me of a line of poetry from a Karaite scholar named Israel Ha-Dayyan Ha-Ma'aravi (al-Maghribī) (14th Century, Egypt). In his poem, he wrote, "If you see me sitting in the dark on the eve of the Sabbath, do not think I am in distress, for God is my light in the darkness." What a beautiful concept.[2]
I pray that one day there would be a Tanakh with a Karaite commentary translated into English for all to enjoy. And maybe – just maybe – a Karaite will put forth a key difference between Karaites and Rabbanites (far more respectfully than Artscroll does here) and someone can say, "You know; that's a great point."
In any event back to the class – I then pointed out something subtle about the comment. The comment is implying that if you read the Tanakh in Hebrew according to its plain meaning, you would come to the same conclusion as the deviant sects (i.e., the medieval and modern Egyptian Karaites),[3] and that you need the Oral Law to teach you that the meaning of these words is something different from how you would read them naturally.[4]
As a Karaite and I do not believe that you need the Oral Law to teach you the plain meaning of the text.
For example, as a Karaite I open to other views that are at odds with both Rabbanite view and the medieval Karaite view – where the plain meaning dictates.  On this verse in particular, I am very open to the possibility that the Karaites are correct with respect to the fact that fire is not permitted even when lit before Shabbat, but that the Sabbath day ("Yom Shabbat") only applies to the Yom (that is, the day) of Shabbat (and not to any night time periods). This view is different from both the traditional Karaite and traditional Rabbanite view.
Does that make me a deviant sectual deviant?
*      *      *
[1] Not more than a week or so after I read this comment to the class did I get an email from a former coworker telling me that he was sitting through Shabbat services at a bat mitzvah when he started reading this same edition of Artscroll and thought of me fondly as Artscroll spent pages upon pages in its book denouncing heretics. I actually have the Artscroll Chumash and had never paid attention to this anti-heretical tendency until these events,
[2] The Karaite Press plans to release some of Israel Ha-Dayyan's works in the coming months.
[3] To be fair, later (particularly Byzantine and European) Karaites did indeed allow fire to burn on Friday night (interpreting the verse in line with the Rabbanite opinion); though this is not the majority Karaite view today.
[4] Eli Shemuel once told me that he heard a similar argument with respect to Shavuot. He said that an Orthodox Jew once told him (something to the effect of), "You Karaites are correct; if we only had the Tanakh, we would start counting the Omer on a Sunday. But we have the Oral Law, which explains to us that we start counting on the second night of Passover."